STEM (Science, Technology, Engineering, Math) Camps
The Meriden YMCA Mountain Mist Day Camp is excited to offer our STEM (Science, Technology, Engineering and Math) Camps! STEM Camps are open to campers who have completed grades 3 through 8 as of the school year ending in June 2017.
Our Meriden YMCA STEM Academy programs have been recognized and awarded these very special grants. We are grateful for the support of these organizations:
2016 Cox STEM Education Grant
2015 3M STEM Education Grant
2012 Napier Foundation STEM Education Grant
2011 NASA Summer of Innovation STEM Education Grant.
STEM Camps will be under the direction of Christopher Stone, Director of STEM Academy.
Science for ALL Campers!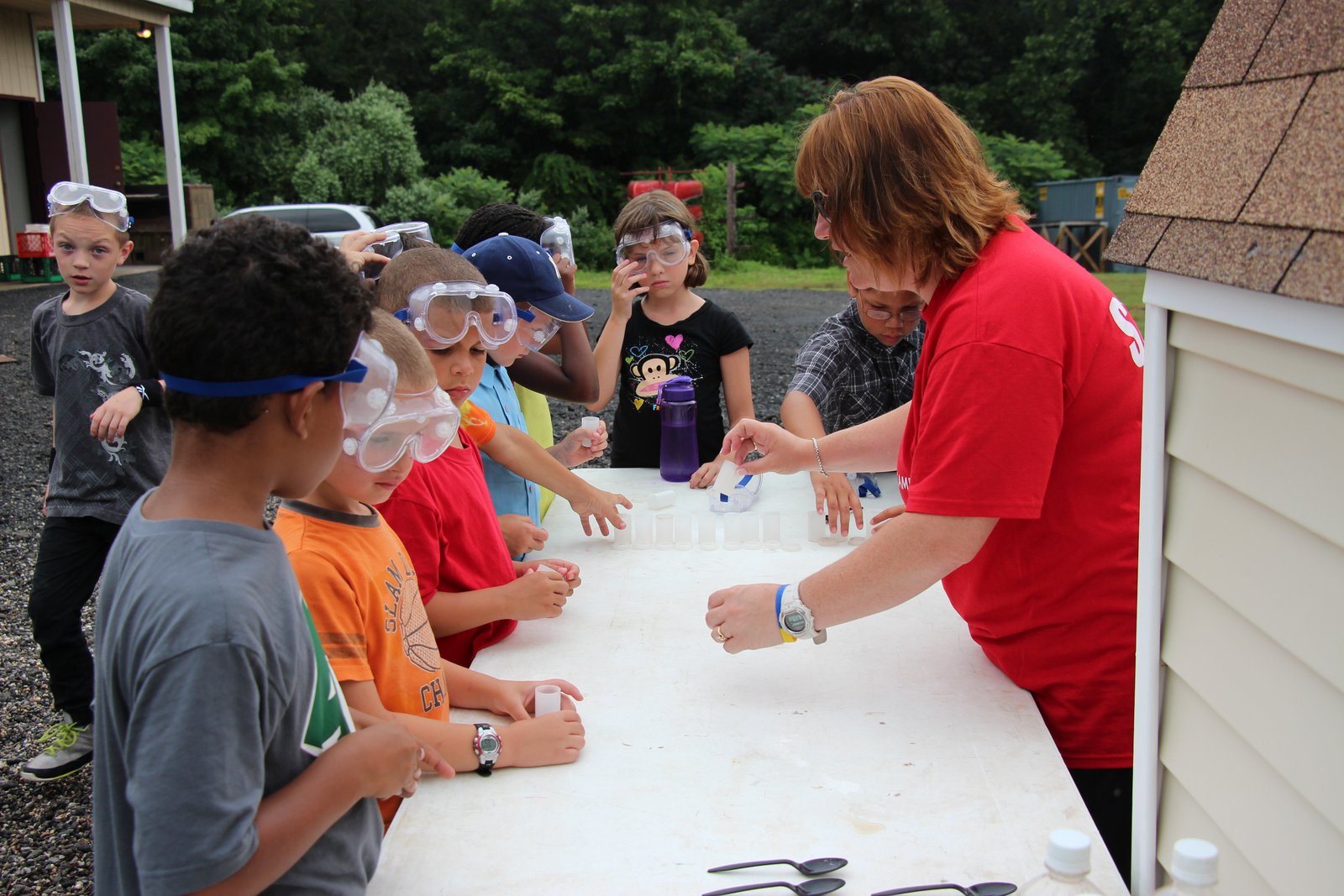 All Sessions
The Meriden YMCA STEM Academy is proud to bring science and STEM to all campers. Each camper will be offered at least one rotation of science each session that they are registered for camp. Science for ALL is part of the Meriden YMCA Community STEM (Science, Technology, Engineering and Mathematics) Education Initiative.)
STEM Camps
Nature Science Camp (Session 1: June 19 - June 30, 2017)
Have you ever thought about the 66 acres of Mountain Mist as an outdoor science classroom? During this exciting nature science adventure, we will explore nature and become "Backpack Naturalists". Each day campers will hike the Mountain Mist property noting interesting insects, trees, plants, and wildlife while keeping a scientist's notebook of their discoveries. These daily "EcoWalks" will include daily visits to the frog pond!
Campers will also design and conduct investigations that include building a mini-greenhouse, comparing the growth of earth seeds to seeds that have flown in space, and creating a solar oven. Campers will also take a field trip and visit a local park to compare and contrast the environment with Mountain Mist. During all of these experiences, instruction will be given on how to use simple science equipment such as hand lenses and microscopes. Come join Mountain Mist's "Backpack Naturalists" and become a member of Meriden's Young Scientists.
Full Member $360
Program Member $410
Engineering Camp (Session 2: July 3 - 14, 2017)
Are you interested in being in the next generation of creators and inventors? Engineering campers will investigate with highly engaging hands on K'NEX and Lego challenges such as windmills, bridges and simple machines. These and many other STEM related investigations will be taught in our STEM Education Classroom at Mountain Mist. Come be a part of Meriden's Young Engineers and join CT STEM Academy for a fun filled camp!
Full Member $360
Program Member $410
STEM Challenges Camp (Session 3: July 17 - 28, 2017)
Students will deepen their understanding of STEM (Science, Technology, Engineering and Math). Fun and engaging learning experiences will include daily challenges, take away projects and lots of interaction with the camp environment. Campers will spend time at Mountain Mist and also take a local field trip. Come join us for a session full of fun!
Full Member $360
Program Member $410
Making is Fun Camp (Session 4: July 31 - August 11, 2017)
Our maker program curriculum will center on our students making projects that have a final visible outcome that can be shared with their families, local and global community. Throughout all projects, we will continually emphasize the engineering design process, individual creativity and the importance of collaboration. These projects will include, but are not limited to, making a Bristlebot to complete defined tasks, cooperatively creating Rube Goldberg style machines/inventions, and coding a robot to travel through a maze.
Full Member $360
Program Member $410
STEM Is All Around Us (Session 5: Aug.14 — 25, 2017)
Through hands-on investigations campers will experience a variety of STEM (Science, Technology, Engineering and Mathematics) concepts. Campers can expect to create take home projects, launch a rocket, and enjoy nature hiking our beautiful Mountain Mist campus. Campers will develop observation, communication and collaboration skills. Campers will also take a local field trip to a museum.
Full Member $360
Program Member $410
Past STEM camps:
See Making the Grade at Space Camp story by Brad Drazen from Channel 3
Checkout pictures from the first day of Space Camp 2014 on Flikr and our Rocket Launch
Contact the Meriden YMCA Today ›