STEM (Science, Technology, Engineering, Math) Camps

Save $20 off of one STEM Camp!
For new registrations, per camper off one STEM camp. Register by May 25, 2018.
The Meriden YMCA Mountain Mist Day Camp is excited to offer our STEM (Science, Technology, Engineering and Math) Camps! STEM Camps are open to campers who have completed grades 3 through 8 as of the school year ending in June.
Our Meriden YMCA STEM Academy programs have been recognized and awarded these very special grants. We are grateful for the support of these organizations:
2016 Cox STEM Education Grant
2015 3M STEM Education Grant
2012 Napier Foundation STEM Education Grant
2011 NASA Summer of Innovation STEM Education Grant.
STEM Camps will be under the direction of Christopher Stone, Director of STEM Academy.
Science for ALL Campers!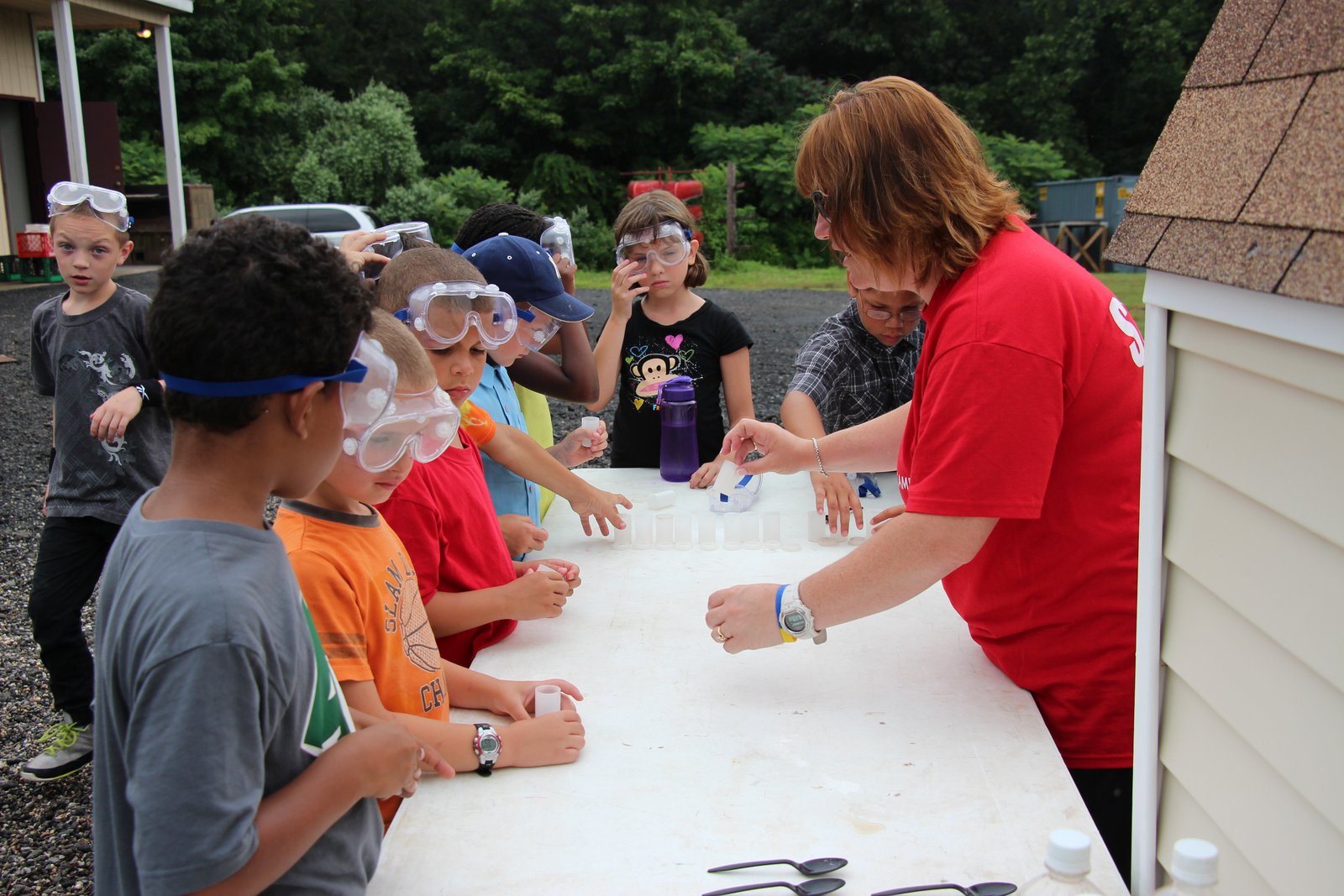 All Sessions
The Meriden YMCA STEM Academy is proud to bring science and STEM to all campers. Each camper will be offered at least one rotation of science each session that they are registered for camp. Science for ALL is part of the Meriden YMCA Community STEM (Science, Technology, Engineering and Mathematics) Education Initiative.)
STEM Camps
Nature Science Camp (Session 1: June 18 - June 29, 2018)
Have you ever thought about what the 60 acres of Moun-tain Mist has in store? Mountain Mist is a giant outdoor science classroom where endless scientific discoveries can be made. During this exciting nature science camp we will explore nature and become "Backpack Naturalists". Each day will be full of new lessons and hands on activities.

Campers will hike the Mountain Mist property noting inter-esting insects, trees, plants, and wildlife while keeping a scientist's notebook to log their discoveries. Our daily investigations will include nature walks, designing a mini-greenhouse, creating a solar oven, shelter building and basic gardening. Campers will learn how to use simple science equipment such as hand lenses, pipettes, twee-zers, microscopes and more. Campers will take a field trip to a local park to compare and contrast the environment with Mountain Mist, and a trip to our South Meriden STEM Academy classroom. Come and join our "Backpack Naturalists" and become a member of the Meriden's Young Scientists.
Full Member $365 Program Member $415
Rocketry and Flight Camp (Session 2: July 2 - 13, 2018)
Are you fascinated with the science of rockets and flying? We will explore the mechanics behind rockets, the science behind flying them and learn from an experience with drone flying. Experiments will include creating three different rockets and engaging in activities to learn how to increase the functionality. Along with this on site camp program, we will be taking a trip to our South Meriden location for STEM activities. Try this camp and you'll have a blast! !
Full Member $365
Program Member $415
STEM Maker Camp (Session 3: July 16 - 27, 2018)
Our maker program will center on our students producing projects that will focus on being hands on and make a product that can be brought home and shared with their families and local community. Throughout all projects, we will continually emphasize the engineering design process, creativity and the importance of collaboration. Camp projects will include basic robotics with Bristlebots, the Great Cardboard Challenge, Rube Goldberg style machines/inventions and coding a robot to travel through a maze. This theme will help the students bring out their analytical ways of thinking and how to apply life skills to engineering and design a "best product". We will also take a trip to our South Meriden lo-cation for STEM activities.
Full Member $365 Program Member $415
Engineering Camp (Session 4: July 30 - August 10, 2018)
Are you interested in being in the next generation of creators and inventors? In this session, engineering campers will engage in hands on K'NEX and Lego chal-lenges. These activities will consist of creating windmills, bridges and simple machines. These, and many other STEM related investigations will be taught in our STEM Education Classroom at Mountain Mist. Come be a part of Meriden's Young Engineers and join CT STEM Academy for a fun filled week. We will be taking a trip to our South Meriden location for STEM activities.
Full Member $365 Program Member $415
STEM Is All Around Us (Session 5: Aug.13 — 24, 2018)
In the last session, we will be holding a variety filled pro-gram to recap our favorites. Through hands-on investigations, campers will experience a variety of STEM (Science, Technology, Engineering and Mathematics) concepts. Campers will experience a little bit of all the concepts touched upon during the duration of the past four sessions.
Campers will create take home projects, launch rockets, and experience nature adventures at our beautiful Moun-tain Mist campus. Campers will develop observation, mo-tor, in depth thinking, communication and collaboration skills. We will take a trip to our South Meriden location for STEM activities.
Full Member $365 Program Member $415
Past STEM camps:
See Making the Grade at Space Camp story by Brad Drazen from Channel 3
Checkout pictures from the first day of Space Camp 2014 on Flikr and our Rocket Launch
Contact the Meriden YMCA Today ›