Schedules
Welcome!
We are excited to welcome you back to the Y. Our facilities have reopened in phases following all safety guidelines. Many favorite activities and amenities are available in complete compliance with the Governor's Reopening Task Force, CDC, and local health guidelines. While the YMCA may look a little different due to the new safety guidelines, our commitment to serving our community has not changed.
See what's happening at the Y:
See you soon!
---
Hours of Operation
Monday – Thursday 5:00 a.m. – 1:00 p.m., 3:00 – 9:00 p.m.
Friday 5:00 a.m. – 1:00 p.m., 3:00 – 6:00 p.m.
Saturday 7:00 a.m. – 2:00 p.m.
Sunday 7:00 a.m. – 12:00 p.m.
Senior Hour Monday - Friday 1:30-2:30 p.m.
Good Friday 5:00 a.m. - 1:00 p.m.
Closed Easter Sunday, Memorial Day, Independence Day and Labor Day. Regular schedule all other days.
---
Senior Hour
Senior Hour is reserved exclusively for our active older adult members. This time is for those who feel more comfortable working out when there are only senior members at the Y. Senior members are also welcome to schedule reservations at other times of day.
Senior Hour Monday - Friday 1:30-2:30 p.m.
Mondays, Wednesdays and Fridays: Senior members may reserve time during Senior Hour in Silver Sneakers class, pool, fitness areas and indoor track.
Tuesdays: Reserve time in the fitness areas and indoor track.
Thursdays: Reserve time at 1:30 p.m. Fit Senior Yoga (chair yoga) or in the fitness center or walking track.
Our senior members are also welcome to reserve time during our regular hours.
---
Keeping Members and Staff Safe
Our Y has implemented new protocols in accordance with state and local health department guidelines to keep our members and staff safe.

The 3 W's can make a big difference in controlling #COVID19: Wear a mask, Wash your hands, Watch your distance.
---
Travel Advisory
---
Screening
Members and staff will be screened before entering our building with questions and a temperature check using a temporal thermometer. We will review our facility rules with members prior to entry. Anyone who has a temperature of 100 degrees Fahrenheit or higher will not be allowed in the facility.
Here are the COVID screening questions. Please review them before visiting. If your answer yes to any of these you are not permitted to enter the Y.
1. Do you have a cough, shortness of breath or any other cold or flu symptoms not assessed and cleared by your primary physician?
2. Have you traveled outside of the United States within the past 14 days and have you reported all out of state travel during that period?
3. Have you knowingly been exposed to someone diagnosed with COVID-19 in the community?
4. Did someone in your household get a COVID-19 test (not related to regular screening or medical procedure) and is waiting for their test results?
---
Entry System
Dear YMCA Family:
At the Y, we are committed to serving you safely. For this reason, we have installed a new entry system that will assist us in monitoring the flow of traffic into our building to help meet the COVID capacity requirements and keep you safe. Beginning Saturday, January 9th we will be using our new entry system. The front doors will be locked at all times. Our welcome center staff will speak to you and allow you access into the building by pressing the button on the intercom which is located on the right side of our front doors. Please remember workout times are by reservation. Please call ahead so we may assist you with your reservation. We are all in this together. Thank you for your continued support!
---
Masks Are Required
Masks are required for everyone's safety. According to the CDC guidance on masks, masks with exhalation valves and gaiters are not recommended.
Gaiters and KN95 masks with one way valves or vents will not be allowed at the Y.
T-shirts covering your face is not a substitute for a mask. A proper mask must be worn.
See CDC guidance

for information on two layer face masks.
Please note per Governor Lamont's Executive Order 9M issued November 20th and effective November 23rd, masks are required at all times, no exceptions. They must be worn in all areas of the facility. They may be removed when you are at your pool lane and ready to enter the water.
---
Wash Your Hands
Signs with safety reminders including handwashing instructions are throughout the facility.
---
Cleaning and Disinfecting
The Meriden-New Britain-Berlin YMCA is committed to maintaining a safe and clean environment.
We are implementing additional stringent cleaning and disinfecting protocols throughout all areas of Y facilities and program sites.
The Y will only use products that meet the EPA's criteria for use against the virus that causes COVID-19.
We will be using the Electrostatic Sprayer daily.
We also ask members to please wipe down machines before and after use.
---
One Way Traffic Flow
There is a one way traffic flow throughout the building. Entrance is through the Butler Street side only. Exit is through the West Main Street side only.
---
What's Open
At this time, locker rooms and showers are available for swimmers and aqua aerobics participants to use after exercising in the pool. Click here for Locker Room information. Come dressed to work out and dressed to swim. Leave gym bags and backpacks at home.
By reservation - Group Exercise Classes, Pool, Fitness Center, Fitness Area 2, Half Gym, Track, Racquetball (bring your own equipment).
Effective March 19, 2021: There are changes to capacity, locker rooms, reservations. Please click here for details.
Bring a water bottle. Water fountains are not available to drink from. A water refill station is available outside the fitness center to refill your water bottle.
---
Reservations
You can register online or by calling us. To register online, click on online reservations and log into your account.
You may also register by calling the Y at 203.235.6386 during our business hours to reserve your workout time. Reservations are on a first come first served.
If you come to the Y without a reservation, we will do our best to schedule you for a workout on a space available basis, abiding by all of the safety and capacity guidelines.
The fitness area equipment has been spread out into two rooms to meet the safety guidelines. The fitness center has weights and cardio. The multipurpose (karate) room also has cardio equipment. You can reserve time in each room. (Starting March 19th reservations will not be required to use the fitness rooms.)
Classes are by reservation only. Register online or call us at 203.235.6386.
Children age 12 and up may attend group exercise class with parents. Child must be part of the same family membership and living at the same household. Participation in group exercise classes is by reservation only. No drop ins.
Meriden YMCA group exercises are for Meriden-New Britain-Berlin YMCA members only at this time. No guests from other YMCAs.
Child Watch and the Exergame Room are closed.
Children cannot come to Y and wait outside exercise class or fitness center for parent.
Group exercise classes are held in the Aerobics Room and in the Gymnasium. Participants will be spaced 12 feet apart.
Spinning classes take place in the gymnasium.
The spin studio has been repurposed for personal training. When not being used for personal training it can be used for an individual workout area.
Group Exercise Classes are by reservation. Reservations for evening classes must be received by 2:00 PM the day of the class. Reservations for morning classes must be received by 7:00 PM the previous evening. Reservations are first come first served.
---

What's available for children
Please visit our Programs for more information.
Children are allowed in the building for the following: scheduled programs; with a parent for front desk business (i.e. registering for a program). Child must be accompanied by parent at all times. Child Watch and Exergame Room are closed.
---
Family Swim Time
Update: We are not able to offer Family Swim at this time due to the Governor's Executive Orders which includes reductions in the number of individuals that can be in the pool at one time.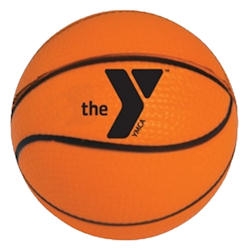 ---
Basketball
Reminder: Masks must be worn at all times and reservations are required.
Starting 2/1/21 - Individual reservation- Up to four hoops may be available per hour, spread out in the gym. Two people are allowed per hoop. Two on two play is allowed.
Bring your own ball. You may only bring a basketball into the Y if you have a basketball reservation.
Family reservation - One family can reserve this area for an hour, parents and children, a maximum of four people. They must all be part of the same household membership and living at the same address. Parents must come with their children. All must wear masks at all times, including while playing.
---
Pool
Members must make a reservation to use the pool.
Aqua Aerobics class is by reservation
At this time, entrance to the pool is through the Family Locker Room. (Other locker rooms will be available starting March 19, 2021.) Exit is from the pool deck door near the lobby.
All PPE masks are to be worn until you are at your lane and ready to enter the water. Once you are out of the water you must put your mask back on and wear it until you are out of the building.
---
Visitors and Guest Policy
Only Meriden-New-Britain-Berlin YMCA members and staff will be allowed in the buildings due to safety and capacity guidelines.
No members from other YMCAs, guests, or visitors.
---
Resources for more information:
Contact the Meriden YMCA Today ›