Special Offers
Exercise Your Heart in More Ways Than One. Join the Y, where your membership means more.
Workout and help out. When you join the Y, you're committing to more than simply becoming healthier. You are supporting the values and programs that strengthen your community. At the Y, children learn what they can achieve, families spend quality time together, and we all build relationships that deepen our sense of belonging. For more than a workout. For a better us.™
---
Join Now Pay In January
Why wait until the New Year to improve your health and fitness? Resolve now to create a better you.
Join the Y between November 30 and December 24, 2017 and make no payments until January 1, 2018.
It's the Y's holiday gift to you!
At the Meriden YMCA there is something for everyone. Free Child Watch while you work out (with a family membership), free group exercise classes, free family events, indoor pool fun, volunteer opportunities, youth sports, arts and education programs, and a warm welcoming community.
Join now and enjoy everything the Y has to offer.
The Y.™For A Better Us.™
Offer applies to a new family, one adult household, adult, senior adult or senior household membership. Monthly membership payments start January 1, 2018 and will be drafted out of a bank or credit card account. Minimum of three months of payments before membership can be cancelled. Some restrictions may apply. May not be combined with other offers or discounts.
To learn more contact: Joan Goodman, Membership and Marketing Director for the Meriden-New Britain-Berlin YMCAs and CrossFit Meriden
O: 203.235.6386 x16
E: joangoodman@meridenymca.org or jgoodman@nbbymca.org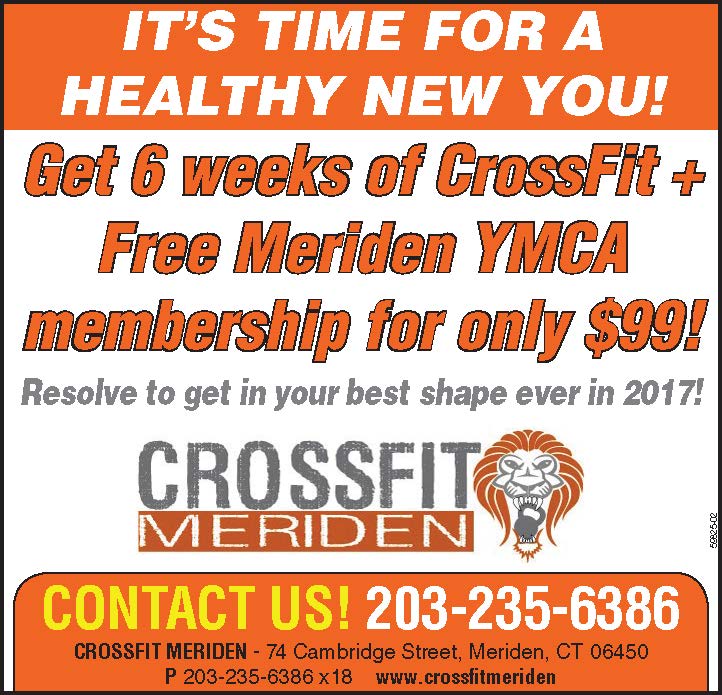 ---
6 Weeks of CrossFit + Y for only $99!
It's a great time to try something new! Click this link for the Meriden YMCA's CrossFit gym at CrossFitMeriden.com. For details
contact our Health and Wellness Director, Carrie Marquardt at 203.235.6386 x18.
---
Refer a friend and get a free month!
Meriden YMCA members if you refer friend and they sign up for a membership, you could get a month off your dues!
Some restrictions may apply. Valid for new memberships only not renewals.
Call Joan for details 203-235-6386 x16.
---
Corporate, senior and military membership programs
Active Older Adults - Silver Sneakers and Silver & Fit programs
Canberra employees
City of Meriden and Board of Education employees
Hartford Healthcare employees (including MidState Medical and Rushford Meriden employees)
Hunter's Ambulance employees
Yale employees
IFCN - Companies that participate in the IFCN (International Fitness Club Network)
Meriden Community Health Center staff
Military members and their families - Active duty, reserves and veterans
Middlesex Community College students and staff
RFS employees
Don't see you company or organization listed here? Contact Joan Goodman at 203-235-6386 x16 about our corporate membership programs.
At the Y, you are more than just a member of a facility – you are part of a community! As a nonprofit organization, your membership dollars also help to make an impact on the community and area youth.
Contact the Meriden YMCA Today ›