Music Camp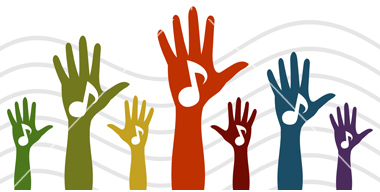 Augusta Summer Music Program
ACCC in partnership with the Y

Dates: July 20—31, 2020
Concert: July 30, 2020
Fun Day at Mountain Mist: July 31,2020
Grades: For campers entering grades 5—12
Location: Washington Middle School
Register: Meriden YMCA
Does your child love music? Sign up for Band, Orchestra or Chorus programs at Summer Music Camp and advance your child's musical skills. Students will work with certified music teachers in small groups as well as large ensembles. Students will increase their skills on instruments and voice as well as expand their knowledge of music theory and musicianship. Choose full or half day session. Instrument included. Free breakfast snack (8:00—8:30 a.m.) and lunch (11:30 a.m.—12:00 p.m.) included.
| | | |
| --- | --- | --- |
| Option | Course | Grade |
| A 8:30 - 11:30 | Ensembles - Students choose one group Chorus, Band, or Orchestra | 4 - 9 |
| B 12:00 - 2:00 | Exploratory Sessions - Students rotate in classes for Guitar, Drumming, Composition | 5 - 9 |
| C 2:00 - 3:15 | Advanced Ensembles - Chamber Strings, Wind Ensemble, Chamber Singers, Jazz Combo | 8 - 12 |
Fees per camper: Please note this is for a two week camp session. Choose your options.
One option is $125. Two options are $225. Three are $325.
High school students: Session C is geared for your age.
High school student volunteers - Student would volunteer during sessions A & B and get discounted rate of $55 for session C if they choose to participate in session C. Volunteers must be pre-approved by Ms. Kwiczor. Email her at marta.kwiczor@meridenk12.org. if you are interested in volunteering.
Registration: Click the links below to for the Camp Registration info and to download the camp forms or pick up a camp registration packet at the Meriden YMCA. Bring completed forms to the Meriden YMCA at 110 West Main Street.
This camp is co-sponsored by the Augusta Curtis Cultural Center and the Meriden-New Britain-Berlin YMCA.
More about our Music Camp Program Director
Marta Kwiczor is the founder and director of the Augusta Summer Music program. Ms. Kwiczor is also the band director at Washington Middle School in Meriden, CT where she received Teacher of the Year in 2014 and is involved in new teacher training. She has been teaching since 2004 and holds bachelors, masters, and 6th year degrees in Music Education. She is an active member of the Connecticut Music Educators Association, holding several leadership positions over the years as well as adjudicating in festivals. In addition, she performs on saxophone and clarinet in various local groups.
The summer music program began in 2012 as a collaboration with the Augusta Curtis Cultural Center and in recent has joined forces with the YMCA with support from the MPS Music Department. We have grown over the years in participants and offerings. Our goal is to provide students with a high quality and affordable summer musical experience. We are proud to have a wonderful community of musicians, many returning as volunteers and teachers.
To see our Music Camp Photo Album click the photo below.
Contact the Meriden YMCA Today ›