Music Camp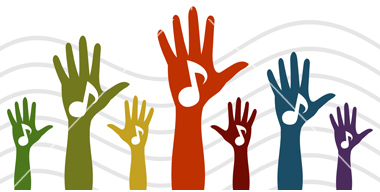 Augusta Summer Music Program
ACCC in partnership with the Y
Dates: July 15 - 26, 2019
Finale Concert July 26th 6:30 p.m.

Does your child love music? Sign up for Summer Music Camp and advance your child's musical skills over the summer. Students will work with certified music teachers in small groups as well as large ensembles. Students will increase their skills on instruments and voice as well as expand their knowledge of music theory and musicianship.
Open to all students entering grades 5 - 12 in the Fall.
Low cost affordable music camp. Scholarships are also available.
Sign-up for Band, Orchestra, & Chorus! Instrument rental included.
Exploratory classes in guitar, drums, theory & composing!
Advanced Chamber Groups for High School students!
Marta Kwiczor is the Program Director for the Augusta Summer Music Camp. Ms. Kwiczor is the Director of Band at Washington Middle School in Meriden.
Music Camp Schedule:
8:00 - 8:30 a.m. Breakfast snack provided to all students 18 and below.
AM Session: 8:30-11:30 a.m. Choose one ensemble, Band, Orchestra, or Chorus. Music level geared towards current 4-9 graders.
Lunch Break: 11:30 a.m.—12:00 p.m. Lunch provided to all students 18 and below.
PM Session:

12:00—2:00 p.m. Rotate through 3 courses each day. Guitar, World Drums, Theory/Composition. These are beginner courses for mixed levels.
2:00 - 3:15 p.m. Advanced Chamber Groups/Jazz Combo. These are for students in high school or younger with appropriate playing level. Any instrument and voice are welcome. Group types will depend on registration and interest area.
Fees for the two week program:
Full Day Program $200
Half Day Program $120
Advanced Chamber Group on its own: $100
All Sessions/whole day(AM, PM, and Chamber) $300
High School Student Volunteers: Students in High School do not need to pay the $120 fee for the AM and PM sessions, but must pay for the Chamber Groups/Jazz Combo component, which is $50. Registration must be completed for all students. Scholarships are available.
Registration: Click the links below to for the Camp Registration info and to download the camp forms or pick up a camp registration packet at the Meriden YMCA. Bring completed forms to the Meriden YMCA at 110 West Main Street.
2019 Mountain Mist Camp Registration Information and Forms
If you need scholarship information, please contact Carolyn Daniels at cdaniels@meridenymca.org.
For questions about the music program please contact Marta Kwiczor, Program Director, at 860-748-3730 or send an email to marta.kwiczor@meridenk12.org
This camp is co-sponsored by the Augusta Curtis Cultural Center and the Meriden-New Britain-Berlin YMCA.
Contact the Meriden YMCA Today ›