Why We Love the Y
My Y Story



Maria (Maggie) Diaz
On July 29th of last year, I had two major surgeries for rare conditions. Imagine your tissues have lost the "glue" (collagen) to hold them together. It is called Ehlers-Danlos Syndrome or EDS which is a genetic defect in the collagen that is in the connective tissue for organs, muscles, ligaments, skin…everything in your body.This is what is happening all over my body and part of my brain had started to slide down into my spinal column which is called Chiari 1 Malformation.
The surgeries involved a "Brain Decompression and Craniocervical Fusion" by a specialist in New York. I am still recovering, still doing physical therapy.
Our kids, Devon and Delaney are very active. They do theater (MYT), dance, summer camp, swimming, and basketball. With me being out of work for medical reasons and my husband only able to take a limited time off, we had no idea how we were going to take care of the kids and keep them active. We needed them to go to camp while I focused on recovering but had no idea how we could pay for it last year.
The Meriden YMCA offered Devon and Delaney camp scholarships (with funds raised by the Annual Campaign) so they could go to camp for free last summer while I recovered from major surgeries.
This was a very big deal to us. The Y helped us tremendously during a very tough time for our family. It took a lot of worries away. Thank you. It means so much to my family.
---

Carmen Perreault
I chose the Y because I feel comfortable. Everybody helps you. It is like a family.
I started at 263 pounds. No one judged me.
I also delivered holiday meals with my son to show him you got to give back. And Beky helped train my daughter to run her first 5K. I am so proud of her.
My husband lost 50 pounds. He has never been in a gym his whole life and would not get off the elevator at first. Now he has got to go 3 times a week.
---
Donna Scott
I've lost 50 pounds and met so many awesome friends of all ages!
---
Maria Morales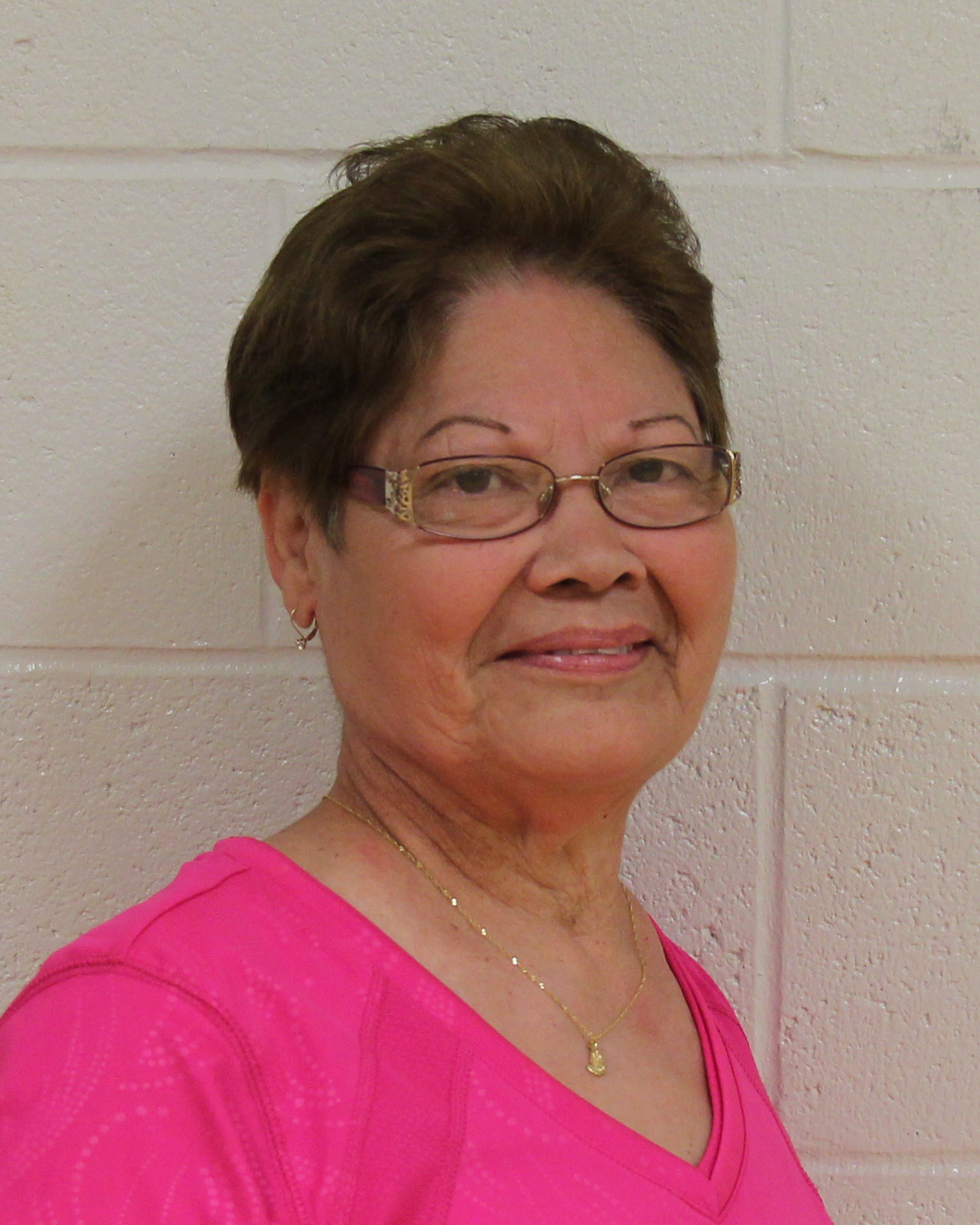 I started at the Y with Silver Sneakers 5 years ago.
I feel good and have met a lot of nice people.
I enjoy ZUMBA, Yoga, Have a Ball, Weights, Senior Olympics, Lunch and Learn...everything!
I come almost every day.
---
Billie-Jo Romano
At a Platt Girls Soccer auction 2 1/2 years ago I won a gift certificate for the Meriden YMCA membership. It took me a while before I used it because of a bad experience with another gym. Even though I walked a lot at work and I play and coach soccer I had gone up to 169 pounds due to pregnancy and an ACL injury. When I went to any function with my loved ones or friends I had to wear a size 16 dress/pants and I felt uncomfortable. I also was uncomfortable with the thought of going to a gym - I was afraid I would be judged. When I finally went to the Y a coworker got me to do ZUMBA class with her. Four classes in I thought 'hey I could do this.' I was welcomed by other members of the Y. There was no judgement. It took time to learn the routine but I never gave up.
Now I am the one that tries to inspire others and I love it. I came back from an ACL injury and was able to share that with another member. I'm the one in class that won't let you give up with inspiring words to get you to get up and get moving! Better to be called out by me then Annie our instructor! Lol!
I have gone from 169 to 125 pounds. It took hard work and patience with myself. I tell new members that you have to work hard at it over time you will see results. It does not happen instantly but it can happen for you. The key was changing my bad eating habits too. It is good to have a strong support at home. When I hit a plateau at 145 pounds Annie told me about Paleo. I tried it and it helped. I lost 15 pounds in 5 weeks. She was there supporting me with other members at the Y. She is always giving me great tips and making sure I'm doing the work outs correctly so I don't injure myself.
It is so welcoming here. The members and staff are awesome. I am not a runner but now I am doing a 5K race each month with Beky (another instructor) and other members for fun. The best part of course is having a beer after! I also do Body Shred (my favorite class), Insanity,Zumba, Zumba Step and Boot Camp.
People tell me how energetic I am. I do have tons of energy. The more weight you lose the more energy you have! I am more confident about everything I do now and I love to dress up now. I feel so great inside and out. I love the compliments I get all the time. Yes it makes my head bigger than it is, but it is the best feeling in the world. I'm very proud I have a body of a 20 year old not a 41 year old. A few words of encouragement: Work hard, eat right, listen to the instructors, push yourself, never say I can't and never give up.
---
O'Neal Family
I love the Y because my girls have made some wonderful friends swimming and my daughter's reading has improved from working with Mr. C. in the Reading Rocks program. I have met some wonderful friends. I love the staff they are so incredible with everything and I love the Y because my kids feel safe there. We love going every week. We swim together on the weekend after my daughter's lesson. I can't wait until swim team starts so we can be with our swim team family. My older daughter also loves CrossFit Kids.
---
Diane Dornfried
I love the Meriden YMCA's CrossFit program because no matter what I do the coaches make me feel good about what I can do. All of the members are very encouraging. I feel so much better about myself and I have lots of energy.
Don't be afraid to try CrossFit. When I attended the Business After Hours event there and saw people doing hand-stand push-ups, I thought I will never be able to do that. Well, I still can't do HPSUs, but I can do so many other things that I never thought I could do. The other athletes celebrate each other's accomplishments – big or small. And that is what I truly love about CFME (CrossFit Meriden)– the camaraderie.
Diane was our CrossFit Meriden member of the month for May.
---
Pat Marcinczyk
The Meriden YMCA has become my second home and family. It helps me keep fit physically, mentally, emotionally, and socially.
You can find me working out in the pool, in the aerobics room, or the fitness center 6 days a week! After knee replacement surgeries two years ago, I built strength and muscle through physical activity. I am more fit today in my 60's than I was in my 20's.
I have build a network of close friends who have become extremely supportive. After years as a caregiver, I lost my spouse. Caregiving was extremely taxing, and the medical issues at times became overwhelming. Members and staff alike were extremely supportive and helpful during this difficult time in my life. We cried together and then they taught me it was okay to laugh with them despite what was going on in my life.
Socially, the Meriden YMCA has opened up a whole new world for me. We "Pool Pals" exercise hard, but we play hard as well. Last year we started taking field trips. So far our trips have included visits to restaurants, museums, horse races, historical homes, plays, art activities, to name a few. You will find some of us playing Mah Jong on Friday mornings next to the racquetball courts. Who knows what we will do next?
I have encouraged a lot of my friends to join the Meriden YMCA because the people of the Meriden YMCA have saved my life in many ways."
---
Pat Fitzgerald

"Everybody has their breaking point."
It was early in the year. The weekend before, I went to a hockey game up in Boston with my brothers. I ate a lot of fast food and I wasn't feeling too good. I dropped my daughter off for swim practice and thought, we have a family membership I might as well use it.
I went upstairs to the fitness center and saw the scale. I decided to get on it and saw 300. I stepped off and thought it might be broken. I took a deep breath and stepped back on the scale. It still said 300. Everybody has their breaking point. That was it. I said to myself, this has to stop.
First, I started running every day. I thought 45 minutes on the treadmill would do the trick.
I signed up for the Biggest Winner Challenge with my wife. It was a home run for both of us and a great thing to do together and have that support at home. She has lost weight - I don't know all of the numbers - she has done great.
Carrie (Carrie Marquardt, Fitness Director) was our coach for the Biggest Winner Team Challenge. I had been running on the treadmill for about a week and a half when we did a team challenge work out with Carrie. It was a whole variety of things - air squats etc. In 25 minutes I was drenched with sweat.
Carrie said we're done. I said, "Yeah we're done with this, what's next?" And Carrie said, "No we're done." I could not believe it. Then Carrie said "You just did more in that work out than you did for a week and a half on the treadmill."
I listened. My old self would've gone off and just done my own thing. I changed my workout and still did a lot of cardio but also added the Workout of the Week.
It's May, and I was talking to Brandon, (Brandon Keegan, Meriden YMCA Fitness Staff member, Personal Trainer, and CrossFit Coach.) Brandon said if I wanted to lose the upper body weight in my chest I needed to work on strength and not just cardio. So I'd mix it up, run 5 laps on the track, go do a strength exercise, and do some more. I tried CrossFit too which helped me get stronger and continue to get in better shape. Everyone is very supportive.
I am trying to change everything. The way I exercise, the way I eat, the way I do things. Everything. I have pushed myself way out of my comfort zone in many ways. I have tried Boot Camp and other classes and work outs that I would never normally do. Also, I don't like to talk about myself. I am a shy guy. But after (Coach) Annie shared her story, I decided I can too if it inspires others.
---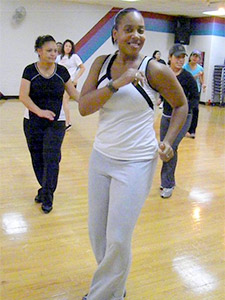 Aisha Mobley, Meriden YMCA member and ZUMBA fan
My best friend Dee took me to ZUMBA class and I haven't stopped!
I gained 60 pounds in college and my family has a history of diabetes and weight gain. I was very close to being diabetic and my cholesterol was high. My doctor said you need to make a change.
Coming to the Y with my friend kept me motivated. I started with ZUMBA classes and then we both hired personal trainer Annie O. to get in shape and learn about healthy eating. So far I've lost 30 pounds and lowered my cholesterol to normal levels and I no longer pre-diabetic. My doctor and I are thrilled with the results.
I created a new healthier path for me and future generations and broke the cycle of weight gain and diabetes in my family. My mom had health problems and this is how I can honor her memory by learning from her and changing the future.
I also enjoy the social piece of being at the Y. Everyone is so friendly, I feel like I belong here and can have a conversation with anyone.
See you in ZUMBA class!
---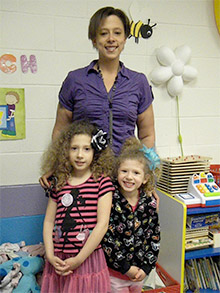 Terri Randall and her beautiful daughters Athena and Eve
Terri's doctor warned her, change your habits or you will not see your daughters grow up.
Her doctor's warning and seeing herself in a bathing suit photo were the wake up calls she needed to face down her "terror and embarrassment" to walk into the Fitness Center at the Meriden YMCA and begin her journey to health.
At the Y, she saw all types of people at all fitness levels including busy moms just like her and many people who were trying to lose weight, and became more comfortable.
Teri lost 105 pounds, lowered her blood pressure, reduced her stress level, and gained energy! "I have dropped four pants sizes and I no longer need to take blood pressure medication." She can now "run faster than my kids on the trails at Hammonasset Beach and walk around all day at the Bronx Zoo and not be tired!"
Terri said she stopped making excuses, found time to take care of herself as a busy working mom and part time student.
"You have to make the commitment to yourself and teach your children by showing them how to be healthy. We eat healthy food and exercise. We spend Saturdays at the Y. I exercise, my daughter does karate, we play basketball and swim together.

In the summer we go to my summer resort down the street– Mountain Mist every weekend. I love it. The pool and lifeguards are wonderful. I feel safe there with my children. We bring a picnic lunch. The girls have a blast and I enjoy talking to the other moms."
"The staff and members at the Y are very caring and friendly. I have hit plateaus in my weight and the fitness staff has been extremely helpful showing me ways to change my exercises to move past it and continue losing weight."
"I also love the Child Watch staff. Initially, I was worried about having my children go to Child Watch after being in day care during the day but there is no problem – they love it! They have made friends here and they love to play with them while I get my work out in. My family loves the Y. My children are never bored!"
---
Sue Meadows
"The Y is not just a gym. It's a life changing experience."
"The Y is not just a gym. It's a life changing experience. I love all of the personal trainers. They all challenge you in different ways. I ran a half marathon last year with Beky's encouragement! The challenges are great. We've changed our eating habits and substituted water for soda. And Mountain Mist is a jewel - no other gym has that."
---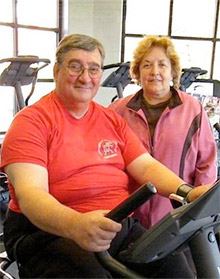 Tom Vuolo (Member of the Meriden YMCA's Cardiac Rehab Program)
Tom likes the Y's Cardiac Rehabilitation Program and comes to the Y three times a week to work with Phyllis Drescher.
"I was a member of the Y then took a break for a while. I gained a lot of weight while I was away. Phyllis is wonderful. She called me to see how I was doing and asked me to come back. I am so glad I did.

I set a goal of losing 15 pounds and I have already lost 12 in the two months I've been back. I am very thankful for the Y."
---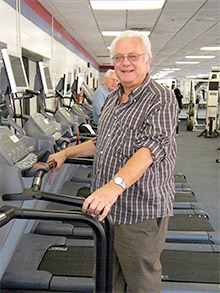 Bill Langevin, member of the Meriden YMCA's Cardiac Rehabilitation Program
"The Y saved my life. When I started I was very out of shape. I have lost over 30 pounds."
I exercise regularly and learned how to eat healthy through the Meriden YMCA's Get Real Weight Management class (included with full memberships) and the local hospital's diabetes prevention program. That's why I like the Y."
Update: Bill has lost 101 pounds over 19 months, and feels great! Bill went from a size 2XL shirt to a medium. His doctors are thrilled with his progress and have reduced and/or eliminated some of his medications. He went from a Body Mass Index of 35 which is "super obese" to a BMI of 23. His granddaughter noted "your belly doesn't touch the steering wheel anymore!" His doctor also said he had a much faster recovery from surgery due to the regular exercise he gets at the Meriden YMCA.
Contact the Meriden YMCA Today ›