STEM
"Look deep into nature and then you will better understand everything." – Albert Einstein
In addition to our STEM Summer Camps and special STEM days at the Meriden YMCA Mountain Mist Day Camp and Outdoor Center, we
now offer STEM programs in collaboration with the CT STEM Academy at our Meriden YMCA Arts and Education Center.
Our Meriden YMCA STEM Academy programs have been recognized and awarded these very special grants. We are grateful forthe support of these organizations:
2019 Cox Charities Community Grant
2018 Cox Charities STEM Education Grant
2016 Cox STEM Education Grant
2015 3M STEM Education Grant
2012 Napier Foundation STEM Education Grant
2011 NASA Summer of Innovation STEM Education Grant.
STEM programs are under the direction of Christopher Stone, Director of STEM Academy and are for ages 8-12.
---
STEAM Club
This is a club for all who are interested in STEAM. Each week we will explore a wide range of topics from Robotics, Science, and Math. Throughout this program, we participants will make weekly connections to Art in STEAM!
Fall Session 1: 9/21, 9/28, 10/5, 10/19, 10/26, 11/2 *No club meeting on 10/12
Day/Time: Monday 6:00 - 7:15 PM
Fee: $42
Location: Meriden YMCA Art Center, 14-15 West Main Street

---
Go For The Gold with Ozobots
Coding at a Social Distance made easy with Ozobots! In this fun interactive program, participants will code interactively with their very own ozobot to keep and continue to use after the program.
Fall Session 2: 10/7, 10/14, 10/21,10/28
Wednesdays 6:00-7:15 pm
This will be taught online
Register at the Meriden YMCA
$125
---
NASA Astro Camp
Developed with NASA based activities, this camp explores what it really means to be an astronaut and an aerospace engineer combining science, engineering, and math all in one. Students will be building, launching, and exploring the various structures launched into space while thinking about the scientific factors that go into real NASA space explorations. This camp introduces children to the principles of engineering through hands-on NASA themed activities in which they will apply the engineering design process to solve problems and generate solutions. The emphasis is on students understanding that engineers must imagine and plan before they begin to create and test. Come join us for a great time!
Fall Session 2: 11/9, 11/16, 11/23,11/30
Mondays 5:15 - 6:15 pm
Fee: $28
Location: In person class at Meriden YMCA Art Center
---
STEAM Engineering Challenges
This hands–on enrichment program is designed for students interested in deepening their knowledge of STEAM concepts through weekly engineering challenges that include Art connections.
Fall 2 Session: 11/9, 11/16, 11/23,11/30
Mondays 6:45 - 7:45 pm
Fee: $28
Location: In person class at the Meriden YMCA Art Center
---
VEX Code VR
VEXcode VR lets you code a virtual robot using a block based coding environment powered by Scratch Blocks. VEXcode VR is based on VEXcode, the same programming environment used for VEX 123, GO, IQ and V5 robots. We all know that robots make Computer Science (CS) come to life with real world applications.
Fall Session 2: 12/7, 12/14,12/21
Mondays 6:00-7:15 PM
Online class
Fee: $21
---
3D Printing with Blocks CAD
Interested in 3D Printing? Blocks CAD is a cloud based 3D modeling tool that encourages users to learn math, computational thinking and coding concepts through visualization and designing models to be 3D printed. Each participant will receive one 3D printed model at the end of this program. Please make sure that your registration includes a current email address and contact phone number. Please make sure that your registration includes a current mailing address (including town/city and zip code) so we can mail your child their 3D creation. Maximum of 15 participants.
Fall Session 2: 11/11, 11/18, 12/2, 12/9
Wednesdays 6:00 - 7:15 PM
Online class
Fee: $40
---
To read an article about one of the Meriden YMCA STEM Academy summer science programs click here.

Our Facilities:
1. Meriden YMCA Art Center, 14-15 West Main Street
2. STEM Classroom at the Mountain Mist Outdoor Center - The Meriden YMCA STEM Academy at the Mountain Mist Outdoor Center is conveniently located in central Connecticut along the border of Wallingford and Middlefield, off Route 66 (East Main Street in Meriden, CT). The facility includes:
66 acres of nature
The CAT (50 foot climbing tower)
Two Rock Walls
Ten Low Rope Challenge Course Elements
One Large Swimming Pool
Large Pavilion
Small Pavilion
Science Education Classroom
Our Staff
Our staff includes a group of highly trained professionals that have the following requirements:
College Education and/or Related Experience
Camp Experience (not necessarily at Mountain Mist)
Specialty that can be taught in a class setting
(Science interest in rocks, social studies interest in American Revolution, artistic, musical)
People skills and kid friendly
In addition, our staff includes certified ropes course facilitators for Mountain Mist's low and high ropes course elements.
To learn more about the curriculum and what a typical day is like at the STEM Academy, contact Chris Stone or Carolyn Daniels.

Carolyn Daniels, Arts and Education Director, Meriden YMCA t 203-235-6386 or cdaniels@meridenymca.org
Christopher Stone, Science Education Director, Meriden YMCA at 203-314-7865 or cstone@meridenymca.org

Thank you to Cox Charities and 3M for supporting our STEM Programs.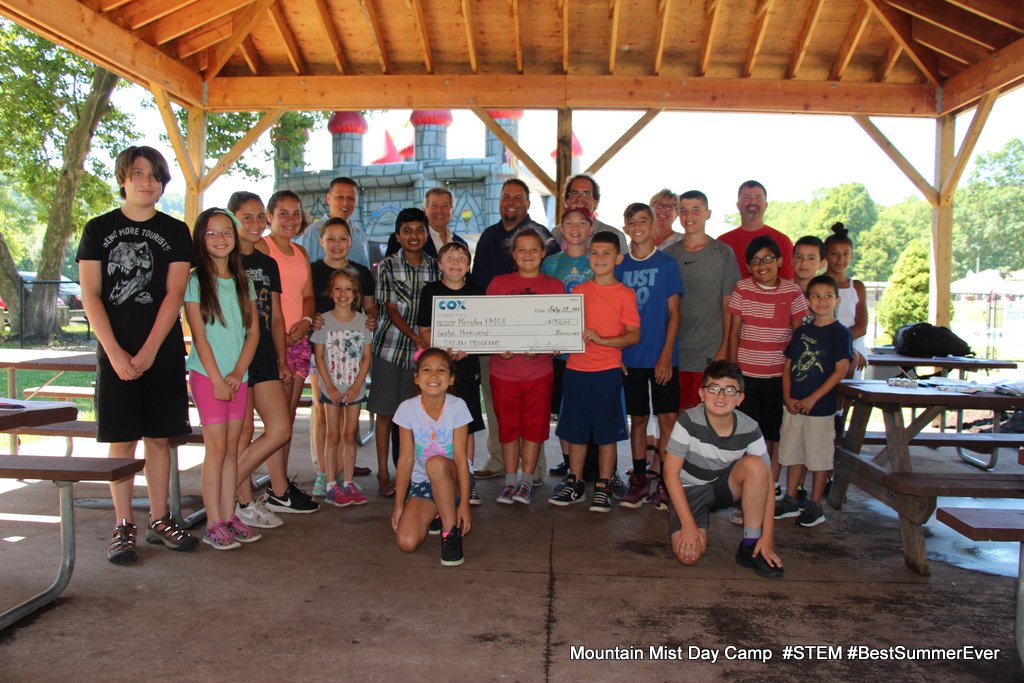 Contact the Meriden YMCA Today ›