Why Parents and Kids Love Mountain Mist
During the summer of 2020, camp looked a bit different and activities were adapted for social distancing. The fun, creativity, friendship, and laughter were the same.
Here is what our parents had to say about the fun safe summer experienced by their children in summer 2020.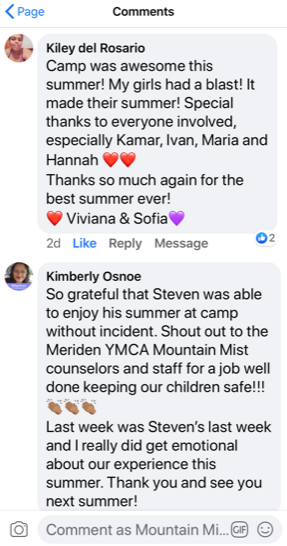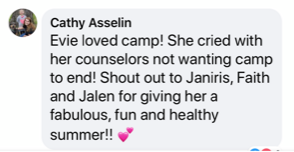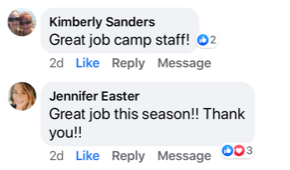 Hear what our camp families said about earlier summers.
My daughter Emmah began attending Mountain Mist in the summer of 2014 and can't wait to go back again this year! Not only does she enjoy the opportunity to see all her old YMCA preschool friends and build relationships with her camp counselors, she absolutely loves all the activities that Mountain Mist offers. Her favorite activity is swimming and each year she can't wait to tell me how her swimming skills have improved from the year prior thanks to the help of her camp counselors. Lastly, she absolutely loves the overnights that are held every second Thursday and talks about it non-stop after I pick her up on Friday's – she loves being able to roast marshmallows by the fire and sing songs. She comes home from camp each night eager to discuss her day and exhausted which confirms to me that she's having the best summer ever.
As a parent, I count on Mountain Mist to provide my daughter with a fun, activity packed summer that will keep her entertained, fit and most importantly, safe. The Mountain Mist Summer Camp provides everything my daughter needs to fulfill those needs and I honestly could not ask for anything more. - Paula
Last summer was my daughter's first summer going to camp and she had a blast! She loved the staff and even experienced her first sleepover and can't wait to go back this summer! - Elyse
I met a lot of new friends. The counselors are awesome and nice. I loved the pool it was so big. I like to swim. That was the best summer I ever had. I also like the shows they are awesome it was so cool. I like the overnight thing that was awesome and cool." - Gianna
I have the best summer ever at Mountain Mist Day camp because I am going to play with my friends at the play scape. I love hiking and playing basketball and making new friends. I like the camp counselors and the sandbox. I like that the swimming pool has a shallow end so I can work on my swimming. The rock wall is my favorite but I also like lunchtime. The superhero week is fun plus all the weeks the camp does something special. I can't wait for camp this summer! -Mason
I always have the best summer at Mountain Mist Camp. My favorite part of camp is the huge pool. Another thing I really like is we sometimes get to go on the water slide. An additional reason I like camp is that every afternoon we get to play an awesome game! - Noah
I love camp because all of the staff are nice and they help us a lot. I started camp when I was 5. I learned a lot but my favorite was the pool. I went hiking for the first time and slept outside. I also like MYT plays. Going to camp gave my confidence. I love it so much. - Christopher
Click here for Mountain Mist Day Camp Registration Information.
Contact the Meriden YMCA Today ›