NAFI Helps Provide Summer Camp Fun for Local Children at Mountain Mist
The sounds of children laughing and playing were heard Tuesday morning as NAFI Connecticut Inc. Executive Director Lynn Bishop and IT Director Matt Burns visited Mountain Mist Day Camp to present a camp scholarship donation.
"NAFI is a nonprofit and our goal is to help kids and families. Our staff often give back to local causes they feel passionate about. Matt had the idea of raising money for camp scholarships so more kids would have the opportunity to enjoy this beautiful place. Our staff understand the importance of making a difference in a child's life and rallied together to make this happen," said Lynn.
"We are extremely grateful for NAFI's generous donation to our camp scholarship fund. When a child has a camp experience where they can make new friends, gain self-confidence by trying new things, enjoy fun outdoor activities, and learn from role models, it has a very positive impact. We want to give every child this chance and donations like this make it possible. Thank you," said John Benigni, CEO.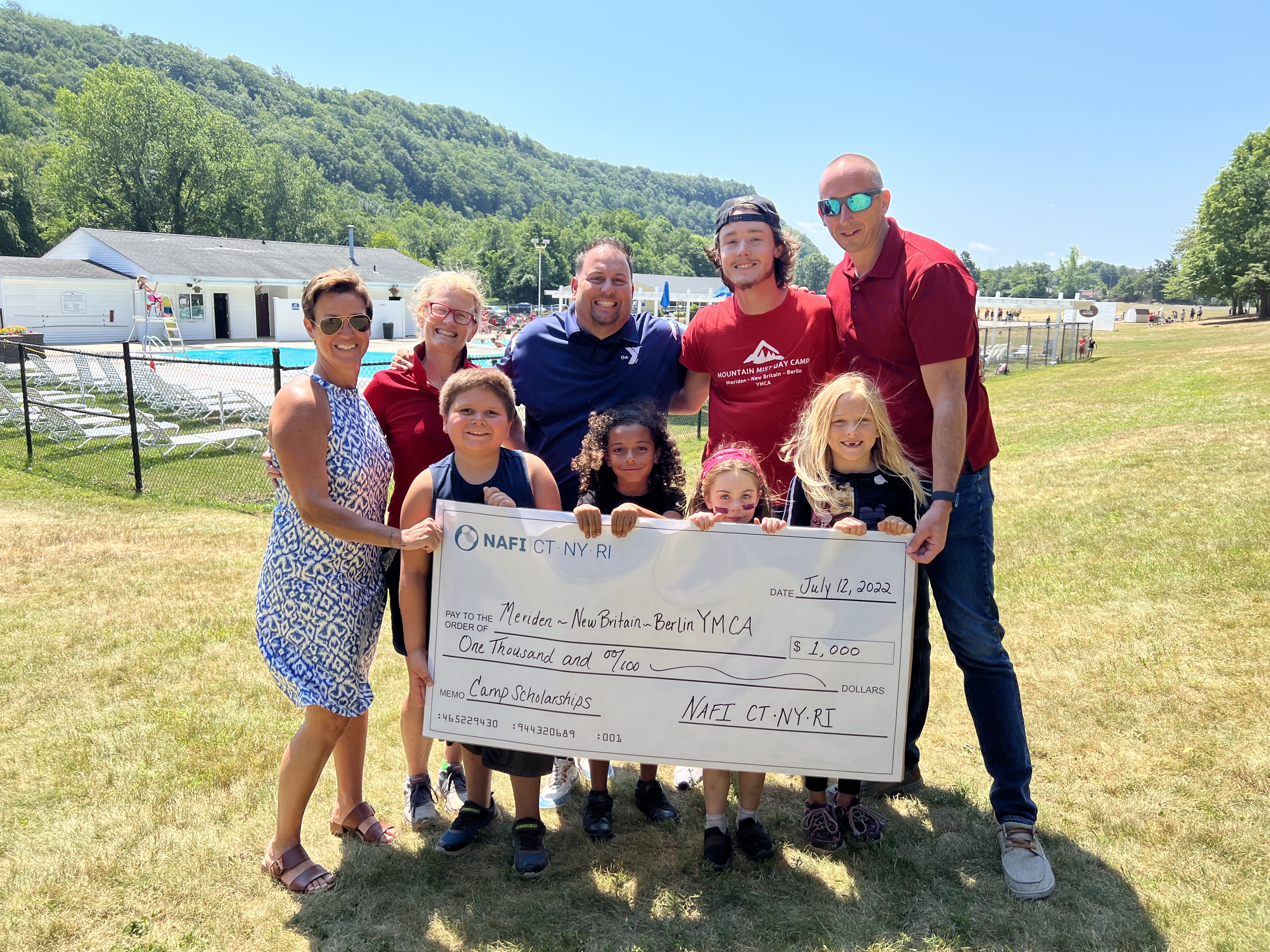 Shown in photo: NAFI Connecticut Inc. Executive Director Lynn Bishop and IT Director Matt Burns present the camp scholarship to John Benigni, CEO, Meriden-New Britain-Berlin YMCA and Carolyn Daniels, Mountain Mist Camp Director and MNBBY Arts and Education Director. They are joined by Mountain Mist Village Director Bryan Brazel and campers Vincenzo, Nicolas, Izzy, and Meadow.
To learn more about NAFI CT visit nafict.org. To learn more about Mountain Mist Day Camp visit meridenymca.org or call 203.235.6386.
About the Y
As the nation's leading nonprofit committed to strengthening community, we are dedicated to building healthy, confident, connected and secure children, adults, families and communities. Every day our impact is felt when an individual makes a healthy choice, when a teacher, coach or camp counselor inspires a child and when neighbors come together for the common good.
About NAFI CT
NAFI CT, established as a corporation in 2003 under NAFI/NFI, is a multi-service agency that provides programming, consultation and individualized support services to youth, families and adults in a variety of settings. Foster care, developmental services and treatment for individuals with developmental needs, residential treatment, in-home services and consultation are the broad scope divisions which make up NAFI CT. From high levels of residential care to in-home individualized wrap around services, NAFI's continuum of services are visible throughout rural, suburban and urban communities in Connecticut, Rhode Island and New York. NAFI CT's mission is creating diverse and innovative services for people.
---