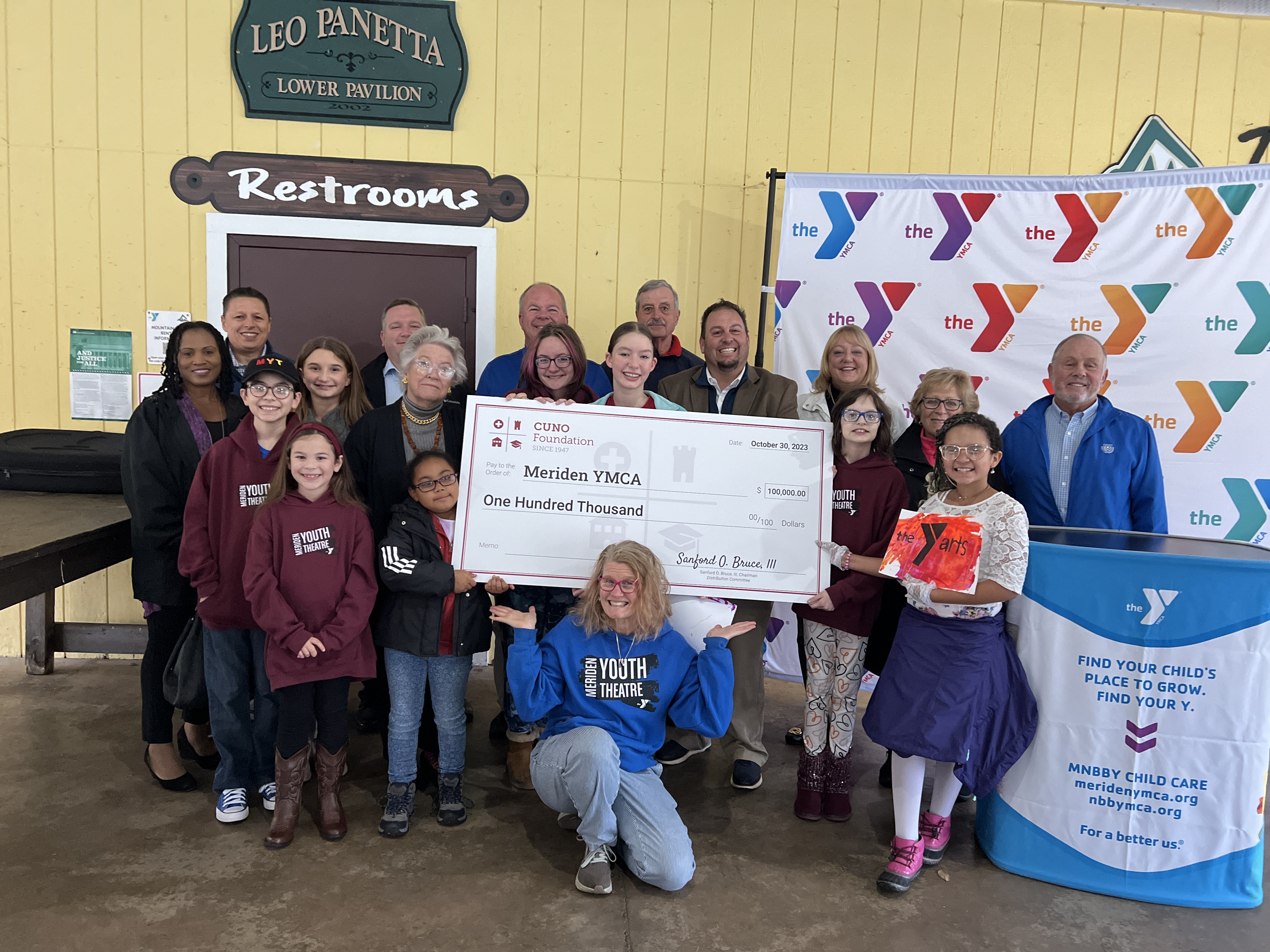 On October 30th the Cuno Foundation presented a grant of $100,000 to the Meriden YMCA for the creation of a multi seasonal program activity pavilion at Mountain Mist Day Camp. This multi seasonal pavilion will allow for additional space and continued use throughout the majority of the year for our growing Meriden Youth Theatre and Rhythmic Force Dance, STEM, homeschool and additional YMCA programs. This pavilion will allow for and enhance increased community activities and events from other local youth and non-profit organizations.
The Meriden YMCA has recognized the continued growth of its Arts, Education, and STEM programs, while continuing to celebrate the more than decade-long partnership with the community organizations of Meriden. There has been renewed success with the Rotary Club Wine and Brewfest, the Meriden YMCA Night of Stars, Witch Upon A Star Halloween event, and activities with other local and non-profit organizations. The Meriden YMCA is excited and proud to be able to offer space that can be utilized for classes, performances and events to enhance programming for the community, over which 10,000 have been served.
"The true power of the Y is in the hearts and actions of every neighbor who believes in our vision of a stronger community for all. Thanks to the Cuno Foundation's extremely generous grant, more local children will have the chance to express their creativity, explore their interests and discover their passions through arts, STEM and many other programs," said John Benigni, CEO, Meriden-New Britain-Berlin YMCA.
About the Y
The Y is one of the nation's leading nonprofits strengthening communities through youth development, healthy living and social responsibility. Across the U.S., 2,700 Ys engage 22 million men, women and children – regardless of age, income or background – to nurture the potential of children and teens, improve the nation's health and well-being, and provide opportunities to give back and support neighbors. Anchored in more than 10,000 communities, the Y has the long-standing relationships and physical presence not just to promise, but to deliver, lasting personal and social change.
At the Y, no child, family or adult is turned away. We recognize that for communities to succeed, everyone must be given the opportunity to be healthy, confident, connected, and secure. In 2022 our Y provided over $1.2 million in scholarships for membership and programs. Through our Annual Campaign we provide scholarships for summer camp, swim lessons, youth sports, child care, family memberships, holiday meals and more.
About the Cuno Foundation
The Cuno Foundation was established in 1947 by Charles H. Cuno, one of Meriden's best-known industrialists and most generous philanthropists, for the purpose of distributing funds for public, charitable, and educational purposes to benefit the citizens of Meriden, Connecticut and surrounding communities.
In 1996, Frank Davella contributed to the Cuno Foundation by establishing the Frank Davella Educational Fund for the purpose of awarding scholarships to students attending colleges and other institutions of higher learning. To date, the Cuno Foundation has disbursed over $6,455,000 in grants and over $5,551,000 in scholarships.
---