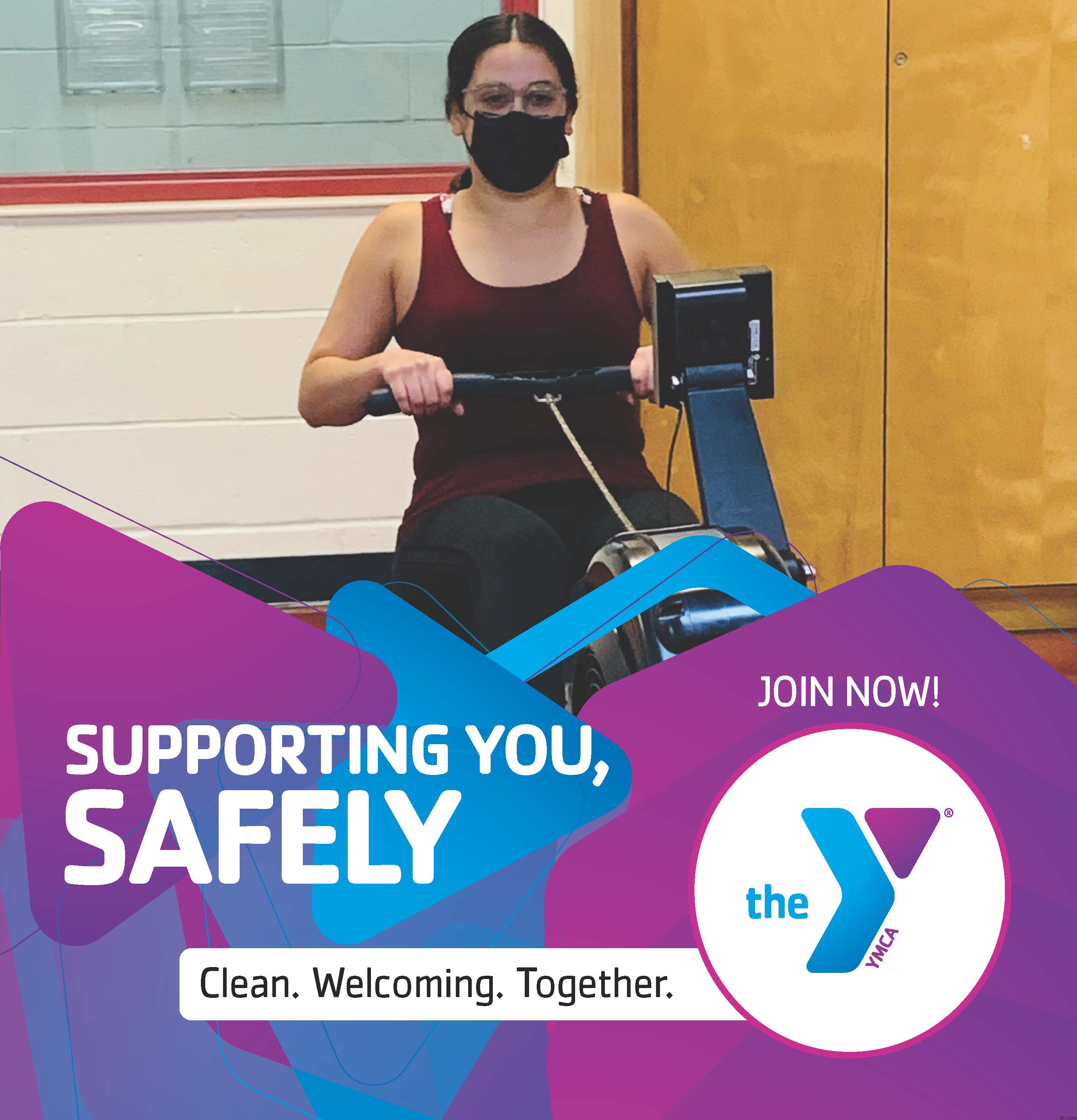 The New Year is traditionally the time to refocus the priorities in your life. For many that means focusing on your personal well-being and committing to exercising more. The Meriden-New Britain-Berlin YMCA is ready to help you safely navigate your wellness journey to help you reach your goals, connect with others, and get the support you need in 2021.
Member safety is our top priority and the YMCA is clean, safe, and in full compliance with all State of Connecticut and local public health guidelines regarding cleaning, sanitizing, masks and social distancing.
"We know that even more than friendly staff and great classes, our members are most concerned about the safety and cleanliness of the facility. Our staff is trained on how to keep our members safe following the current guidelines. We have implemented additional stringent cleaning and disinfecting protocols throughout all areas of Y facilities and program sites," said Steve Markoja, Meriden YMCA Branch Executive Director and Marci Moskal, New Britain and Berlin YMCA Branch Executive Director.
Meriden-New Britain-Berlin YMCA members have access to all three branches. At the Meriden YMCA, amenities include: an indoor pool, indoor track, two fitness areas, gym for shooting hoops, racquetball courts, and group exercise classes. At the Berlin YMCA, members can sign up for group exercise classes. And at the New Britain YMCA members enjoy fitness facilities, pool and group exercise classes. Use of the YMCA is by reservation. Masks and temperature checks are required.
In addition to in person exercise, some virtual options are available including some livestream classes with more planned in the near future. Prerecorded videos from our fitness instructors are available on the Meriden YMCA YouTube channel. Our musical theater program has some fun virtual classes to get you and your family up and moving including Cardio and Choreo and Disney Dance.
"We are proud of our ability to adapt our traditional activities in innovative ways and will continue to do so. We have been able address our community's needs and provide service in new ways," says John Benigni, CEO of the Meriden-New Britain-Berlin YMCA.
To support families during the pandemic since March, the YMCA has offered:
Free emergency child care for essential workers
Food to families and individuals in need
Safe, fun summer camp to over 400 campers per day
Remote Learning Day programs
One to one training with student athletes.
The Meriden-New Britain-Berlin YMCA is offering special rates for college students, adults and families to join in January. To learn more about the Meriden YMCA or to join, visit www.meridenymca.org or call 203-235-6386. To learn more about the New Britain and Berlin YMCAs visit nbbymca.org or call 860.229.3787.
About the Y
The Y is one of the nation's leading nonprofits strengthening communities through youth development, healthy living and social responsibility. Across the U.S., 2,700 Ys engage 22 million men, women and children – regardless of age, income or background – to nurture the potential of children and teens, improve the nation's health and well-being, and provide opportunities to give back and support neighbors. Anchored in more than 10,000 communities, the Y has the long-standing relationships and physical presence not just to promise, but to deliver, lasting personal and social change.
About the Meriden-New Britain-Berlin YMCA
The Meriden-New Britain-Berlin YMCA seeks to become a "master link" in our communities, connecting needs to resources, people to programs, possibilities to potentials and to enhance the quality of life for all people who live and work here.
The Meriden YMCA has served the community for 153 years. The New Britain-Berlin YMCA has served our community for 161 years. The New Britain-Berlin YMCA formed an association with the Meriden YMCA in 2017.
For information about all of our programs for youth and adults, please visit www.meridenymca.org or www.nbbymca.org or follow us on Facebook at facebook.com/YMCA.Meriden and facebook.com/nbbymca, and Twitter @MeridenYMCA and @nbbymca.
---