Swimmer of the Month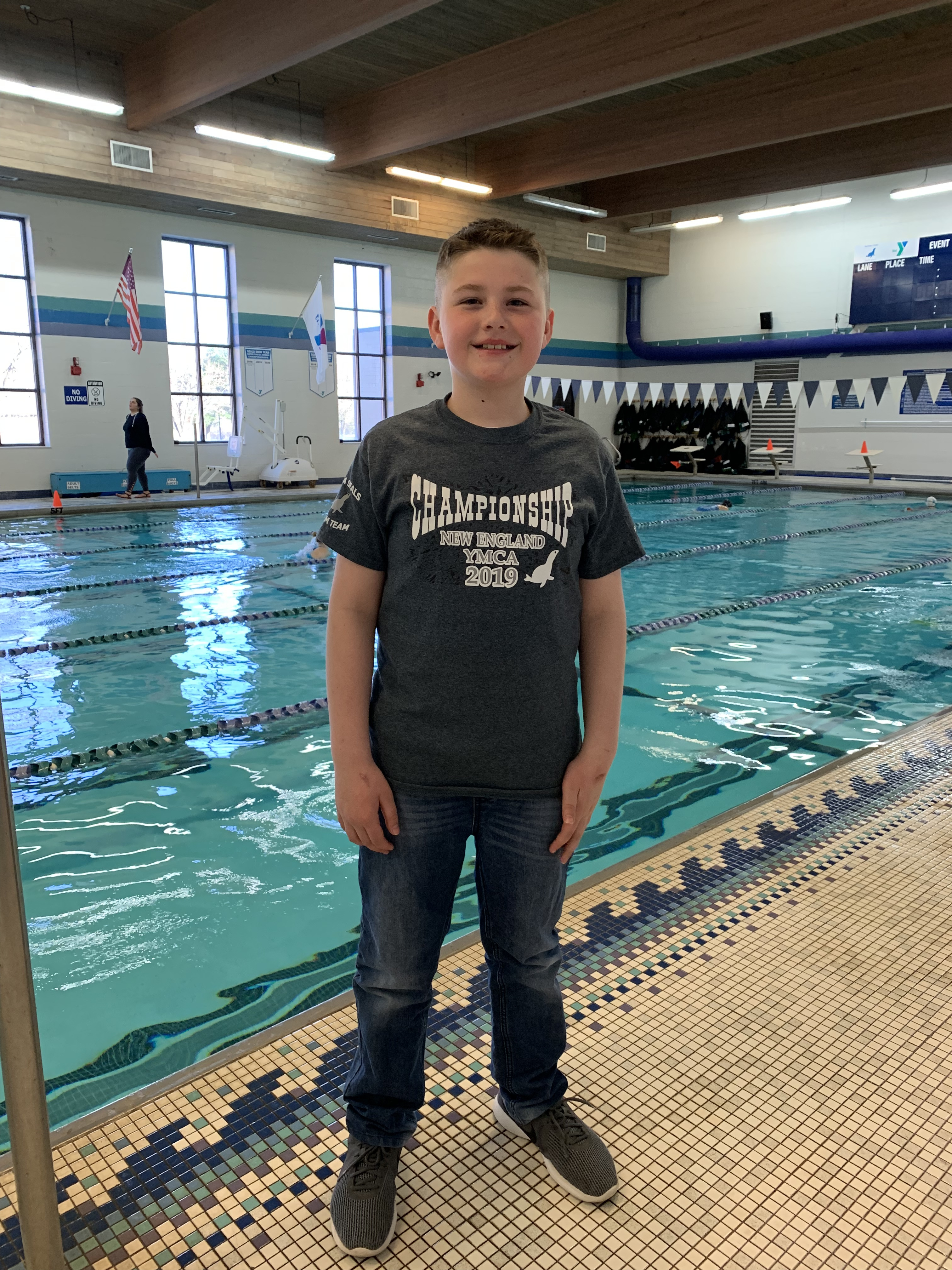 Tyler Borselle
Coaches comments: I chose Tyler for swimmer of the month because he is one of those kids that swims and has fun while doing it. He is always positive. I love when he is really thinking about doing something, stops in the middle of trying it and says "Is that right? Did I do it right?" He tries hard. He has not always reached his goals but he does not give up. He set his goal this year and got it! I am so proud of him!!! - Coach Cathy
How long have you been with the Seals swim team? Five years.
What do you like about swimming? I like the social aspect of it and I just like swimming. We also get to travel which I like a lot. I am a very enthusiastic swimmer and at any meet I would pretty much lose my voice because I am screaming for my teammates.
What is your favorite stroke? Favorite race? My favorite stroke is the backstroke, and my favorite race is the100 backstroke. It is fun and you get to breathe the whole time!
What were your swim goals this year? I really wanted to go to New England's. I went at age 8 on the relay team. Last year I tried really hard but did not make it. This year I tried really, really hard and made it into two events, the 50 back and100 back and the two relays.
What are your goals next year? Zones.
What are your favorite subjects in school? Writing and reading.
What do you like to do when you are not swimming? I play lacrosse and I like to be outside riding my bike.
What is something the other swimmers may not know about you? I am very musical. I play tenor sax and I am in the regular and jazz band. I am the only tenor sax in my band. I want to try to play all of the saxophones.
From Tyler's parents, Dennis and Michelle Borselle
Dennis: Ty worked extra hard this year. It was exciting for him to get to New England's in his own events in addition to the relay team. All of the hard work and practices paid off.
The coaches are just great and really care. That is what separates the Y from other programs. Each coach took individual time to work with him and said these are the things you need to work on. Preston and Cathy working with him on Sundays and all of the other extra stuff that he did really made the difference. Preston especially pushed him.
The biggest change I've seen is his confidence level. He also learned the importance of being able to set a goal, work hard and achieve it which he can translate to everything. He definitely likes the social aspect too. And he sees how hard his sister works.
Tyler always tells me it is nice to have a whole other set of friends in addition to his friends in Berlin. The team has opened us up to friendships with other families. It is nice. Everyone looks out for each other. That really separates the YMCA Seals from other programs.
Michelle: I chose the Seals because of the reputation for developing young swimmers and focusing on technique and the whole child. It was important to me that personal improvement is the focus not winning. I was a coach for 14 years and swam competitively. We've been swimming at the Y for 5 years. Ty insisted he was going to swim after he swam one season in the summer. When he joined, he could barely make it across! Tyler was the one who got us all involved. Our older daughter swims and now our younger one does too.
Tyler has had additional experiences/opportunities to develop friendships and meet Olympians and try different events through USA swimming. He also heard Michael Phelps speak at Southern.

Tyler: Michael Phelps taught me that sometimes in swimming you have to keep trying even if it does not go your way.
Contact the Meriden YMCA Today ›