Scuba Club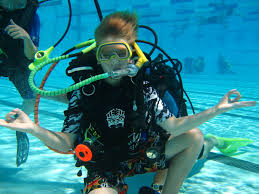 This fun and educational program offers children ages 8 years old and older an opportunity to learn about scuba and explore a whole new world. After eight lessons participants could take a certification test and be eligible to take optional trips. Participants age 10 and over will get their certification. This is a great parent and child activity.
Meets once per month
Sundays 2:30 - 7:00 p.m. starting February 23, 2020
Registration fee $100 each/$35 per visit.
Call Cathy for more details at (203) 440-1870.
Contact the Meriden YMCA Today ›