STEM (Science, Technology, Engineering, Math)
"Look deep into nature and then you will better understand everything." – Albert Einstein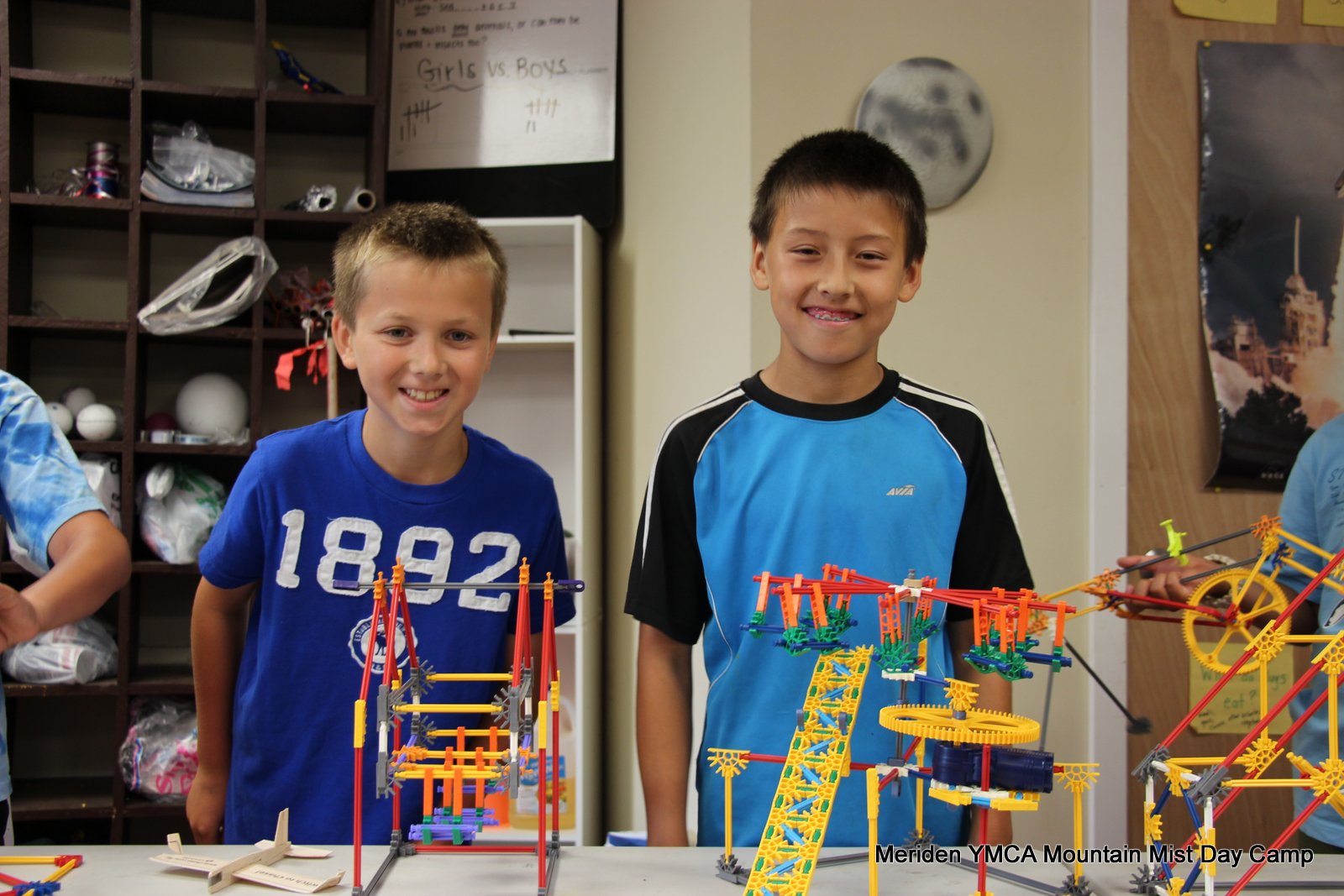 In addition to our STEM Summer Camps and special STEM days at the Meriden YMCA Mountain Mist Day Camp and Outdoor Center, we now offer STEM programs in collaboration with the CT STEM Academy located at 91 Main Street in South Meriden.

CT STEM Academy, 91 Main Street, South Meriden
Click this link to read more about our newest STEM classroom.
Click the links below to learn about our new STEM programs:
---
STEM programs at the Meriden YMCA Mountain Mist Outdoor Center
Our STEM offerings at Mountain Mist include STEM Science Saturday programs in our science classroom, and summer STEM camps.
To read an article about one of the Meriden YMCA STEM Academy summer science programs click here.

Overview
The Meriden YMCA Mountain Mist Outdoor Center has been a flourishing summer day camp for over thirty years. For several years, the outdoor center has been offering adventure learning opportunities with low ropes courses, high ropes courses, and team building activities.

In 2009, the Meriden YMCA Mountain Mist Day Camp began to make a shift towards science enrichment opportunities. These enrichment opportunities have been offered through the Messy Lab Science Program, Space Camp, Nature Science Camp and the Young Scientists program (beginning in January 2012).

In July 2011, the Meriden YMCA was awarded a NASA Summer of Innovation Grant for its innovative approach to STEM (Science, Technology, Engineering and Mathematics) Education. As a result of these steps, Mountain Mist Outdoor Center has committed to offering science education programming for school age students during the school year. These science offerings, combined with the existing team building and ropes course educational offerings, are known as the Meriden YMCA STEM Academy at the Meriden YMCA Mountain Mist Outdoor Center.

In the spring of 2012, the Meriden YMCA began offering full day programs for local students called Science Saturdays for local school groups. A Science Saturday offering will include a pre-planning survey, pre-planning session with the Meriden YMCA Operations Director and the Science Education Director, and a debriefing session with the Meriden YMCA Operations Director and Science Education Director.

Our Facility

The Meriden YMCA STEM Academy at the Mountain Mist Outdoor Center is conveniently located in central Connecticut along the border of Wallingford and Middlefield, off Route 66 (East Main Street in Meriden, CT). The facility includes:


66 acres of nature
The CAT (50 foot climbing tower)
Two Rock Walls
Ten Low Rope Challenge Course Elements
One Large Swimming Pool
Large Pavilion
Small Pavilion
Science Education Classroom

Our Staff
Our staff includes a group of highly trained professionals that have the following requirements:

College Education and/or Related Experience
Camp Experience (not necessarily at Mountain Mist)
Specialty that can be taught in a class setting
(science interest in rocks, social studies interest in American Revolution, artistic, musical)
People skills and kid friendly

In addition, our staff includes certified ropes course facilitators for Mountain Mist's low and high ropes course elements.

To learn more about the curriculum and what a typical day is like at the STEM Academy, contact Chris Stone or Carolyn Daniels.
Carolyn Daniels, Arts and Education Director, Meriden YMCA: 203-235-6386 or cdaniels@meridenymca.org
Christopher Stone, Science Education Director, Meriden YMCA or cstone@meridenymca.org or 203-314-7865



Contact the Meriden YMCA Today ›